Volunteer and Support the Griffin Bike Park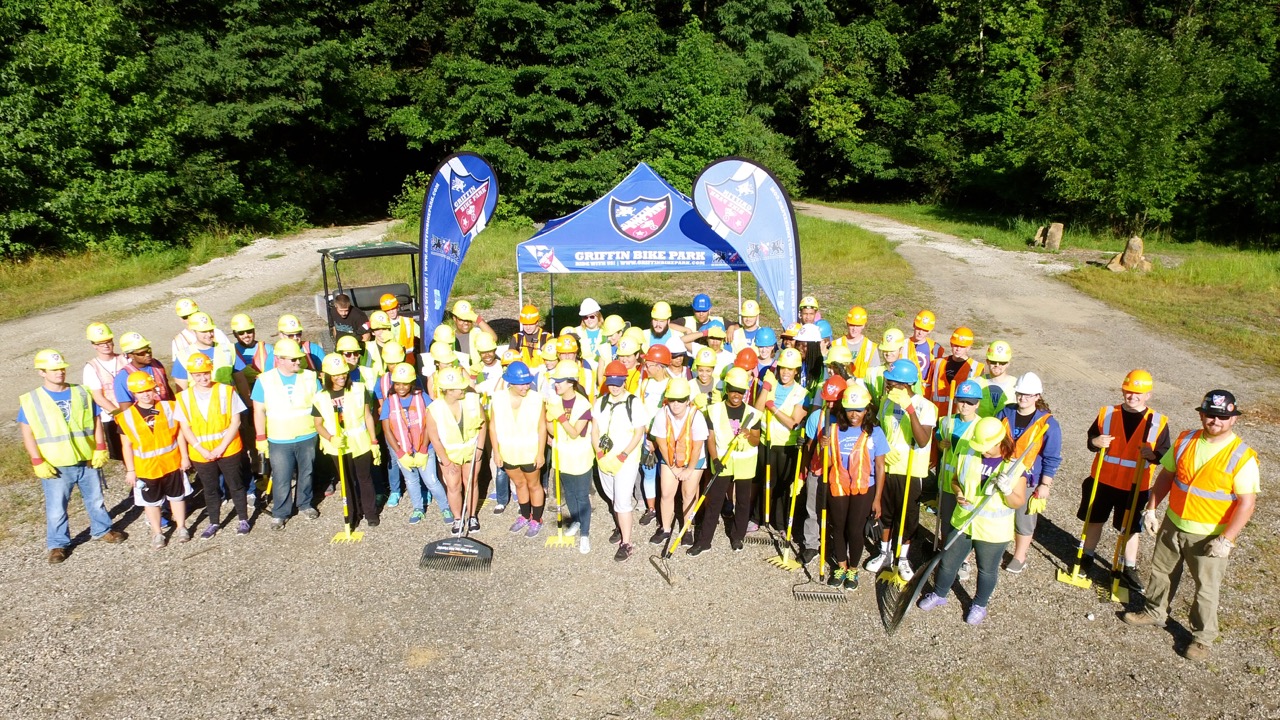 Volunteer Opportunities:
There are many volunteer opportunities at the Griffin Bike Park from clearing and grubbing and trail building to event support and administrative tasks, and so much more. Three ways to find out about upcoming volunteer opportunities:
Visit the Griffin Bike Park Facebook Page for upcoming Events.
View the Griffin Bike Park Calendar of Events.
Email Rich Moore, Manager, Griffin Bike Park, and request information about volunteer opportunities.
Volunteer Activity Summary:
| Category | |
| --- | --- |
| TOTAL HOURS VOLUNTEERED: | 16,149 |
| TOTAL COMPETITIVE WAGE VALUE OF VOLUNTEER ACTIVITIES: | $574,155 |
| TOTAL VOLUNTEER COUNT: | 1097 |
Supporting Organization Volunteer Activity:
Our Supporting Organizations have contributed the following volunteer hours to the development of the Griffin Bike Park.
| Supporting Organization | | | |
| --- | --- | --- | --- |
| 181st Air National Guard | 55 | 100 | 155 |
| Alpha Sigma Alpha | 30 | 0 | 30 |
| American Structurepoint | 421 | 47 | 468 |
| Friends Committee | 4,214 | 2972 | 7,186 |
| Friends Official Members | 113 | 108 | 221 |
| GE Aviation | 461 | 282.5 | 744 |
| Girl Scouts | 22 | 0 | 22 |
| Illiana Multisport | 19 | 0 | 19 |
| Indiana State University | 628 | 213 | 841 |
| Indiana State University ROTC | 5 | 0 | 5 |
| J's BIKES | 813 | 531 | 1,344 |
| LDS Missionaries | 446 | 233 | 679 |
| National Pan-Hellenic Council | 26 | 0 | 26 |
| Premier Homes | 0 | 413 | 413 |
| Rose-Hulman University | 165 | 151.5 | 316 |
| Rose-Hulman University Baseball | 0 | 116 | 116 |
| Rose-Hulman University ROTC | 25 | 4 | 29 |
| Signature Construction, LLC | 0 | 561.5 | 562 |
| Sumansky-Lewis Foundation | 0 | 681 | 681 |
| Terre Haute South High School | 278 | 143.5 | 422 |
| Terre Haute Young Leaders | 83 | 122 | 205 |
| Vectren | 0 | 75 | 75 |
| Wells Fargo | 26 | 4.5 | 30 |
| WTWO News | 0 | 70.5 | 70.5 |
Friends of Griffin Bike Park Volunteer Trailbuilders:
| Volunteer Name | Supporting Organization | | 100+ Hours! | 500+ Hours! | 1,000+ Hours! |
| --- | --- | --- | --- | --- | --- |
| | | | | | |
| FRIENDS OF GRIFFIN BIKE PARK COMMITTEE | | | | | |
| Barrett, Jordan | Friends of Griffin Bike Park Committee/Rose-Hulman University | 25 | | | |
| Crandell Niki | Friends of Griffin Bike Park Committee/ Kellogg's | 115 | * | | |
| Griffin, Blake | Friends of Griffin Bike Park Committee | 816 | * | * | |
| Griffin, Clint | Friends of Griffin Bike Park Committee | 1,181 | * | * | * |
| Griffin, Dona | Friends of Griffin Bike Park Committee | 893 | * | * | |
| Griffin, Gene | Friends of Griffin Bike Park Committee | 1,407 | * | * | * |
| Hammons, Grant | Friends of Griffin Bike Park Committee/ J's Bike Team | 13 | | | |
| Hansel, Brady | Friends of Griffin Bike Park Committee/ Terre Haute Young Leaders | 197 | * | | |
| Harnack, Jerry | Friends of Griffin Bike Park Committee/ J's Bike Team | 157 | * | | |
| Hastings, Matt | Friends of Griffin Bike Park Committee/ GE Aviation | 299 | * | | |
| Hoffeditz, Jenny | Friends of Griffin Bike Park Committee | 76 | | | |
| Maffioli, Donny | Friends of Griffin Bike Park Committee | 17 | | | |
| Moore, Darla | Friends of Griffin Bike Park Committee/ J's Bike Team | 205 | * | | |
| Moore, Rich | Friends of Griffin Bike Park Committee/ J's Bike Team / Premier Homes | 995 | * | * | |
| Newton, Chris | Friends of Griffin Bike Park Committee | 2 | | | |
| Payne, Brian | Friends of Griffin Bike Park Committee/ American Structurepoint | 490 | * | | |
| Reich, Julia | Friends of Griffin Bike Park Committee | 24 | | | |
| Sutphin, Dave | Friends of Griffin Bike Park Committee | 349 | * | | |
| Tanner, Klaine | Friends of Griffin Bike Park Committee/ Signature Construction | 1,057 | * | * | * |
| Threlfall, Jeriah | Friends of Griffin Bike Park Committee/ Indiana State University | 38 | | | |
| | | 0 | | | |
| OTHER VOLUNTEERS | | | | | |
| ?, Aubree | Indiana State University | 4 | | | |
| ?, Bri | Indiana State University | 4 | | | |
| ?, Joe | | 3 | | | |
| ?, Josh | Indiana State University | 4 | | | |
| ?, Mackenzie | Indiana State University | 4 | | | |
| ?, Maloyojkee | Indiana State University | 3 | | | |
| ?, Nickolas | Indiana State University | 3 | | | |
| ?, Sandra | Indiana State University | 4 | | | |
| ?, Sarah | Indiana State University | 4 | | | |
| ?, Tom (Tan?) | Rose-Hulman University | 4 | | | |
| ?, Toni | Indiana State University | 4 | | | |
| (?). Ben | | 2 | | | |
| 181st Air National Guard x3 | 181st Air National Guard | 18 | | | |
| Achuthan (?), Arman | Rose-Hulman University | 4 | | | |
| Adams, Ty | Rose-Hulman University | 4 | | | |
| Addison, Shai | Indiana State University | 4 | | | |
| Aff, Jesse (?) | Indiana State University | 4 | | | |
| Akers, Daniel (Elder) | LDS Missionary | 17 | | | |
| Akers, Lee | Vectren | 2 | | | |
| Alayon, Kody | Rose-Hulman Baseball | 4 | | | |
| Allen, Austin | Rose-Hulman Baseball | 4 | | | |
| Anderson, Ellie | Girl Scouts | 1 | | | |
| Anderson, Kathy | Girl Scouts | 1 | | | |
| Anderson, Se'lah | Indiana State University | 4 | | | |
| Andrews, Alyssa | WTWO | 2 | | | |
| Andrews, Arianna | Indiana State University | 3 | | | |
| Anthis, Taylor | Indiana State University | 4 | | | |
| Asay, Paul | Indiana State University | 3 | | | |
| Atkinson, Kylie | Indiana State University | 2 | | | |
| Atwa, Nora | Terre Haute South High | 9 | | | |
| B (?), Burt | Triangle Fraternity | 2 | | | |
| B. (?), Matthew | Terre Haute South High | 4 | | | |
| Babel, Molly | Terre Haute South High | 4 | | | |
| Bailey, Ryan | Rose-Hulman University | 4 | | | |
| Bair, Bryson (Elder) | LDS Missionary | 16 | | | |
| Baker, David Jr. | National Pan-Hellenic Council | 2 | | | |
| Banks, Jonathan | Rose-Hulman Baseball | 4 | | | |
| Barboza, (?) (Elder) | LDS Missionary | 7 | | | |
| Barrett, Seth | Indiana State University | 4 | | | |
| Barrus, (?) (Sister) | LDS Missionary | 12 | | | |
| Bauer, Savanna | Indiana State University | 3 | | | |
| Baysinger, TJ | WTWO | 8 | | | |
| Beadle, Norman | GE Aviation | 3 | | | |
| Beckett, Nathan | | 9 | | | |
| Bednar, Gary | Triangle Fraternity | 2 | | | |
| Beier, Peter | Indiana State University | 3 | | | |
| Bell, D'Mira | Indiana State University | 3 | | | |
| Bell, Emily | | 3 | | | |
| Bendel, Sean | Rose-Hulman Baseball | 4 | | | |
| Bennie, Jade | Indiana State University | 4 | | | |
| Beyer, Nicole | Habitat for Humanity / Americorps | 4 | | | |
| Biddle, Justin | | 6 | | | |
| Biehl, Mitchell | Triangle Fraternity | 2 | | | |
| Billings, Ryan | Triangle Fraternity | 2 | | | |
| Black, Marquise | Indiana State University | 3 | | | |
| Blanton, Ed | | 13 | | | |
| Bobbitt, Jordan | Indiana State University | 3 | | | |
| Bonnell, Chester | Rose-Hulman University | 4 | | | |
| Boones (?), Sam | | 3 | | | |
| Bopp, Brian | | 57 | | | |
| Bopp, Christopher Jon | | 45 | | | |
| Borran (?), Jacob | | 7 | | | |
| Bowen, Jim | | 2 | | | |
| Bowley, Morgan | Indiana State University | 4 | | | |
| Boye, Kayla | Indiana State University | 3 | | | |
| Boyer, Colby | | 2 | | | |
| Boyers, S (?) | | 3 | | | |
| Bracken, Jennifer | GE Aviation | 4 | | | |
| Brady, Emily | Indiana State University | 3 | | | |
| Brandenburg, Jonathan | Triangle Fraternity | 2 | | | |
| Brink, Jocelyn | Terre Haute South High | 3 | | | |
| Brinza, Todd | | 6 | | | |
| Britton, Jonah | Indiana State University | 4 | | | |
| Brooks, Madison | Girl Scouts | 1 | | | |
| Brown, Gideon | Terre Haute South High | 3 | | | |
| Brown, Jason | GE Aviation | 3 | | | |
| Brown, Sean | Indiana State University | 4 | | | |
| Brown, Steve | | 9 | | | |
| Brummett, Evan | | 10 | | | |
| Bryan, Gordy | Wells Fargo, Terre Haute Branch | 4 | | | |
| Buffington, Miranda | Indiana State University | 2 | | | |
| Buggs, Kyla | Girl Scouts | 1 | | | |
| Bunch, Shawn (VCPRD) | | 9 | | | |
| Burd, Michael | Indiana State University | 5 | | | |
| Burke, Pat | Triangle Fraternity | 2 | | | |
| Burnett, (?) (Elder) | LDS Missionary | 10 | | | |
| Burnside, David | Rose-Hulman Baseball | 4 | | | |
| Bush, Zachary (Elder) | LDS Missionary | 15 | | | |
| Butchart, Katie | Indiana State University | 3 | | | |
| Butler, Jack | Rose-Hulman Baseball | 4 | | | |
| Butrum, Brad | 181st Air National Guard | 3 | | | |
| Butts, Levi | Triangle Fraternity | 2 | | | |
| C. (?), Brent | | 6 | | | |
| Cade, Nasir | Indiana State University | 3 | | | |
| Caissie (?), Lisette (?) | Illiana Multisport | 2 | | | |
| Callahan, Joey | Rose-Hulman Baseball | 4 | | | |
| Cammack, Will | Terre Haute South High | 6 | | | |
| Campbell, Cory (Elder) | LDS Missionary | 25 | | | |
| Campbell, Sharon | Indiana State University | 3 | | | |
| Canas, Alicia | Indiana State University | 4 | | | |
| Caon, Troy | Vectren | 2 | | | |
| Caplin, Jordan (Elder) | LDS Missionary | 22 | | | |
| Capps, Landen | Triangle Fraternity | 2 | | | |
| Carithers, Tiffany | GE Aviation | 5 | | | |
| Carone, John | Rose-Hulman Baseball | 4 | | | |
| Carpenter, Kelcie (Sister) | LDS Missionary | 13 | | | |
| Carrera, Legzer | Triangle Fraternity | 2 | | | |
| Carson, Grace | Terre Haute South High | 4 | | | |
| Carter, Kenneth | Indiana State University | 3 | | | |
| Carter, Leah Beth | Indiana State University | 4 | | | |
| Carter, Shyanne | Indiana State University | 3 | | | |
| Case, C (?) | | 2 | | | |
| Case, Dylan | | 2 | | | |
| Caskey, Jerry | | 9 | | | |
| Casser, Ashley | Terre Haute South High | 3 | | | |
| Cervantes, Victoria | Indiana State University | 3 | | | |
| Chamberlin, Brandon | Terre Haute South High | 4 | | | |
| Chapman, Greg | | 7 | | | |
| Cheeks, Vernon | National Pan-Hellenic Council | 2 | | | |
| Chilutti (?), Dan | Triangle Fraternity | 2 | | | |
| Christ, Ashley | Triangle Fraternity | 2 | | | |
| Citron, Ryan | Rose-Hulman University | 4 | | | |
| Clagee (?), Tyler | | 6 | | | |
| Clark, Kip | 181st Air National Guard | 3 | | | |
| Clark, Mitch (Elder) | LDS Missionary | 23 | | | |
| Clay, Dave | | 8 | | | |
| Clay, Kahlil | Indiana State University | 3 | | | |
| Clay, Korinna | Indiana State University | 3 | | | |
| Clay, Landen | | 4 | | | |
| Clay, Vanessa | | 4 | | | |
| Claypool, Tyler | Illiana Multisport | 4 | | | |
| Clayson, (Sister) | LDS Missionary | 2 | | | |
| Clayton, Ryan | Triangle Fraternity | 2 | | | |
| Clifton, Blake (Elder) | LDS Missionary | 15 | | | |
| Close, Koby | Rose-Hulman Baseball | 4 | | | |
| Colbreatz, Riclha | Indiana State University | 3 | | | |
| Collazo, Veronica (Vero) | Indiana State University | 4 | | | |
| Collins, (?) (Sister) | LDS Missionary | 18 | | | |
| Collins, Austin | Indiana State University | 4 | | | |
| Collins, Jason | Indiana State University | 3 | | | |
| Collins, Jordan (Elder) | LDS Missionary | 3 | | | |
| Collison, Darien | Terre Haute South High | 19 | | | |
| Colon, Hector | | 3 | | | |
| Compton, Clay | | 14 | | | |
| Cooper, Wade | Triangle Fraternity | 2 | | | |
| Cox, Mikayla | Girl Scouts | 1 | | | |
| Crandell, Greg | Kellogg's | 58 | | | |
| Crawford, Cody (Elder) | LDS Missionary | 34 | | | |
| Crawford, Rashad | National Pan-Hellenic Council | 2 | | | |
| Cress, Matt | WTWO | 4 | | | |
| Crisler, Jon | Indiana State University | 3 | | | |
| Crockett, Brian | GE Aviation | 58 | | | |
| Crockett, Rylan | GE Aviation | 38 | | | |
| Crockett, Stacy | GE Aviation | 5 | | | |
| Crockett, Wyatt | GE Aviation | 22 | | | |
| Crowder, Janet | | 4 | | | |
| Cunningham, E. | Triangle Fraternity | 2 | | | |
| Cury, Christien | Triangle Fraternity | 2 | | | |
| Cushler, Matt | GE Aviation | 7 | | | |
| Cushler, Nicole | GE Aviation | 3 | | | |
| Custer, Shawn | Terre Haute South High | 4 | | | |
| Cutler, Jennifer (Sister) | LDS Missionary | 13 | | | |
| D. (?), Aydee | Terre Haute South High | 4 | | | |
| Dael, Xerxes | | 6 | | | |
| Dalloul, Joseph | Terre Haute South High | 8 | | | |
| Dauguila (?), Darius | Rose-Hulman University | 4 | | | |
| Davidson, Jwan | | 26 | | | |
| Davidson, Shanida | Indiana State University | 4 | | | |
| Davis, Jaben | | 22 | | | |
| DeBerry, Anthoney | Indiana State University | 3 | | | |
| Delaney, Heather | | 5 | | | |
| DeLeon, Josh | Indiana State University | 4 | | | |
| DeMab, Jonathn | Triangle Fraternity | 2 | | | |
| Dening, Lawrence | GE Aviation | 18 | | | |
| Denny, Justin | Vectren | 13 | | | |
| Didier, Kim | Vectren | 14 | | | |
| Diehl, Eric | 181st Air National Guard | 3 | | | |
| Dillion, Scott | | 11 | | | |
| Dimpny, Erin | Indiana State University | 3 | | | |
| Domina, Emily | Indiana State University | 3 | | | |
| Domke, Michael | Rose-Hulman University | 4 | | | |
| Donick, Joey | | 4 | | | |
| Donnelly, Zach | Rose-Hulman Baseball | 4 | | | |
| Dougherty, Michael | WTWO | 5 | | | |
| Douglas, Jamie | | 4 | | | |
| Douthitt, Sam | Indiana State University | 4 | | | |
| Dow, Seth | | 4 | | | |
| Dowd, Murphy | Triangle Fraternity | 2 | | | |
| Dowell, Shane | | 11 | | | |
| Downing, Ben | Indiana State University | 3 | | | |
| Dresen, Alex | Indiana State University | 4 | | | |
| Driscoll, Kilceuren | Indiana State University | 3 | | | |
| Drummond, Jarom | | 2 | | | |
| Dumas, Vaughn | Indiana State University | 3 | | | |
| Durbin, Kyle | Indiana State University | 3 | | | |
| Durham, Stephen | Triangle Fraternity | 3 | | | |
| During, Taylor | Indiana State University | 4 | | | |
| Durphy (?), John | Terre Haute South High | 4 | | | |
| E., Keith | Gibault | 3 | | | |
| Early, Jarrett | Terre Haute South High | 4 | | | |
| Earp, Calvin | GE Aviation | 27 | | | |
| Easter, Anthony (Elder) | LDS Missionary | 13 | | | |
| Eaton, Jerry | 181st Air National Guard | 3 | | | |
| Eckert, Hayden | Indiana State University | 5 | | | |
| Edwards, Jacob | Rose-Hulman Baseball | 4 | | | |
| Edwards, Shania | Indiana State University | 3 | | | |
| Eineman, Michael | Indiana State University | 3 | | | |
| Eklund, Jon | Triangle Fraternity | 2 | | | |
| El-Alami, Majd | | 8 | | | |
| Eldridge, Megan | Indiana State University | 4 | | | |
| Ellis, Curt | | 3 | | | |
| Endres, Rachel | | 9 | | | |
| England, Lauren | Terre Haute South High | 4 | | | |
| Ennis, Brooke | Indiana State University | 3 | | | |
| Eschler, Nephi (Elder) | LDS Missionary | 13 | | | |
| Esrer, James | Terre Haute South High | 3 | | | |
| Essig, Amy | Terre Haute South High | 9 | | | |
| Estrada, Birzavit | Indiana State University | 4 | | | |
| Evans, Isabella | Rose-Hulman University ROTC | 13 | | | |
| Evans, Michael | Bemis | 4 | | | |
| Ewing, Jacob | | 4 | | | |
| F., Thomas | Rose-Hulman University | 4 | | | |
| Fagin, Lance | Terre Haute South High | 4 | | | |
| Falk, Jared | | 7 | | | |
| Fansher, Nevin | Rose-Hulman Baseball | 4 | | | |
| Faro, Evan | Wells Fargo, Terre Haute Branch/ Terre Haute South High | 5 | | | |
| Faro, Jack | Wells Fargo, Terre Haute Branch | 4 | | | |
| Faro, Jim | Wells Fargo, Terre Haute Branch | 4 | | | |
| Farrell, Morgan | Indiana State University | 4 | | | |
| Faught, J.J. II | Terre Haute South High | 7 | | | |
| Fellhaver, Aaron | Triangle Fraternity | 2 | | | |
| Ferrell, Russ | Transcare | 6 | | | |
| Figeroi-Garland, Caleb | Triangle Fraternity | 2 | | | |
| Filipovic, (?) (Sister) | LDS Missionary | 4 | | | |
| Fleck, Gabriel | Indiana State University | 15 | | | |
| Flemming, Derrick | National Pan-Hellenic Council | 2 | | | |
| Flynn, Aubrey | Indiana State University | 3 | | | |
| Folse, Drake | | 14 | | | |
| Franklin, Marshawn | Indiana State University | 3 | | | |
| Fraternity Group | | 14 | | | |
| Freeman, Nicholas | Indiana State University | 3 | | | |
| Frey, Leo | | 83 | | | |
| Friedrich, Ryan | Terre Haute South High | 6 | | | |
| Frye, Andy | | 29 | | | |
| Frye, Autumn | | 2 | | | |
| Frye, Daniel | | 6 | | | |
| Fu, Zhang | Rose-Hulman University | 4 | | | |
| Furtner, Mitchell | Indiana State University | 4 | | | |
| G (?), Luke | | 3 | | | |
| Gambill, Madelyn | Girl Scouts | 1 | | | |
| Gambill, Stephannie | Girl Scouts | 1 | | | |
| Ganis, William | Indiana State University | 119 | * | | |
| Garbett, Weston (Elder) | LDS Missionary | 11 | | | |
| Gardner, John | J's Bike Team/ Rose-Hulman University | 7 | | | |
| Gauer, Annie | | 5 | | | |
| Geavin (?), Jin | Triangle Fraternity | 2 | | | |
| Geiger, Jeff | Indiana State University | 5 | | | |
| Gerkin, Burton | Rose-Hulman Baseball | 4 | | | |
| Gibson, Leona | Terre Haute South High | 5 | | | |
| Gilbert, Kathryn | Alpha Sigma Alpha | 2 | | | |
| Gilhoolz, Rory | Triangle Fraternity | 2 | | | |
| Gill, Keshmin | | 7 | | | |
| Gill, Mathias | Indiana State University | 3 | | | |
| Glass, Leo | Triangle Fraternity | 2 | | | |
| Glauser, Tyger | Triangle Fraternity | 2 | | | |
| Glaziner, Marianne | Terre Haute South High | 14 | | | |
| Godfrey, Tristan | GE Aviation | 5 | | | |
| Goehring, Bob | Triangle Fraternity | 2 | | | |
| Goldbort, Julia | Illiana Multisport | 1 | | | |
| Good, Annie | | 5 | | | |
| Good, Matt | | 5 | | | |
| Goodman, G. (?) | Triangle Fraternity | 2 | | | |
| Gothrup, Sandra | Indiana State University | 3 | | | |
| Grabowski, Kate | Terre Haute South High | 4 | | | |
| Grady, Jeff | Indiana State University | 22 | | | |
| Grady, Jeff, Friend of | Indiana State University | 4 | | | |
| Grady, Josh | | 6 | | | |
| Graham, Devin | Indiana State University | 4 | | | |
| Grant, Ian | Rose-Hulman Baseball | 4 | | | |
| Green, Latrell | | 6 | | | |
| Gregg, Anthony | Indiana State University | 3 | | | |
| Greidous, Joel | Rose-Hulman University | 4 | | | |
| Griffin, Alex | | 4 | | | |
| Griffin, Cali | | 12 | | | |
| Griffin, Clint Kids | | 1 | | | |
| Griffin, Eli | | 4 | | | |
| Griffin, Jack | | 4 | | | |
| Griffin, Liberty | | 4 | | | |
| Griffin, Melissa | | 33 | | | |
| Griffith, Noah | GE Aviation | 5 | | | |
| Grim, Fred | | 6 | | | |
| Grimm, Mark | | 2 | | | |
| Grimm, Taylor | | 2 | | | |
| Grossman, Adam | | 2 | | | |
| Gum, Brad | | 32 | | | |
| H., Errick | Indiana State University | 4 | | | |
| Haag, Sara | | 10 | | | |
| Hadley, Shawn | Premier Homes | 6 | | | |
| Hagedorn, Danny | Indiana State University | 4 | | | |
| Hale, Cristen | Alpha Sigma Alpha | 2 | | | |
| Haley, AJ | Indiana State University | 4 | | | |
| Hall, Karlie | Indiana State University | 3 | | | |
| Hall, Keith | National Pan-Hellenic Council | 2 | | | |
| Hanberg, Scott | Triangle Fraternity | 2 | | | |
| Hannaford, Ryan | Terre Haute South High | 6 | | | |
| Hansen, Cameron (Elder) | LDS Missionary | 8 | | | |
| Hanson, Allyson (Sister) | LDS Missionary | 6 | | | |
| Hanson, Cody | | 2 | | | |
| Harbaugh, Joel | | 3 | | | |
| Harding, Danielle | GE Aviation | 5 | | | |
| Hardy, Janshor | Indiana State University | 4 | | | |
| Harper, Jessie | Indiana State University | 3 | | | |
| Harston, (?) (Elder) | LDS Missionary | 12 | | | |
| Hart, Alyssa | Alpha Sigma Alpha | 2 | | | |
| Hart, Garrett | Terre Haute South High | 8 | | | |
| Hartwig, Sabrina | Indiana State University | 3 | | | |
| Harvey, Ben | American Structurepoint | 2 | | | |
| Haskins, Mitchell | Triangle Fraternity | 2 | | | |
| Hastings, Jessica | GE Aviation | 5 | | | |
| Haugen, Andrew | Indiana State University | 4 | | | |
| Hawkey, Amelia | | 2 | | | |
| Hayes, Brad | J's Bike Team | 20 | | | |
| Hayes, Jim | | 4 | | | |
| Hayes, Marek | | 12 | | | |
| Hayhurst, Caleb | Indiana State University | 8 | | | |
| Hazenfeld, Charlie | Triangle Fraternity | 2 | | | |
| He, Xiao | Triangle Fraternity | 2 | | | |
| Heather D. guy-friend | | 2 | | | |
| Hedrich, Michelle | GE Aviation | 4 | | | |
| Helbling, Conner | Rose-Hulman Baseball | 4 | | | |
| Helton, Cory | Terre Haute South High | 3 | | | |
| Helton, Cory | Terre Haute South High | 7 | | | |
| Henderson, Roy | 181st Air National Guard | 3 | | | |
| Henderson, Scott | Vectren | 7 | | | |
| Herald, Shyla | Indiana State University | 4 | | | |
| Herring, Glenn | Indiana State University | 4 | | | |
| Hetzel, Matt | Terre Haute Young Leaders | 3 | | | |
| Hightower, Jeanne | | 30 | | | |
| Hightower, Samantha | Indiana State University | 3 | | | |
| Hines, Jaylon | Indiana State University | 4 | | | |
| Hoback, Frankie | | 2 | | | |
| Hochmith, Andre | Triangle Fraternity | 2 | | | |
| Hoffert, Jake | Triangle Fraternity | 2 | | | |
| Hoffman, Ben | Rose-Hulman Baseball | 4 | | | |
| Hogue, Brittni | Indiana State University | 3 | | | |
| Holloway, Aaron | Indiana State University | 3 | | | |
| Holmes, Dawn | | 6 | | | |
| Holmes, Jared | | 75 | | | |
| Holmes, Keith | | 13 | | | |
| Holmes, Sara | | 4 | | | |
| Horsley, Alonso | Terre Haute South High | 9 | | | |
| Howell, Diamond | Indiana State University | 4 | | | |
| Howlett, Tanner (Elder) | LDS Missionary | 17 | | | |
| Hu, Terry | Triangle Fraternity | 2 | | | |
| Huang, Siyuan | Rose-Hulman University | 4 | | | |
| Hubbert, Lonya | Indiana State University | 3 | | | |
| Hughes, Kayla | Terre Haute South High | 4 | | | |
| Hullinger, Ian (Elder) | LDS Missionary | 7 | | | |
| Hults, Ike | GE Aviation | 4 | | | |
| Hults, Nancy | GE Aviation | 4 | | | |
| Hults, Nolan | GE Aviation | 4 | | | |
| Hummel, Olivia | Girl Scouts | 1 | | | |
| Hutchinson, Paul | | 4 | | | |
| Iacono, Michael | | 9 | | | |
| Ivan, Amy (Sister) | LDS Missionary | 13 | | | |
| Izenstara, Matthew | Triangle Fraternity | 2 | | | |
| Jackson, Destini | Indiana State University | 3 | | | |
| Jackson, Phillip | Terre Haute South High | 4 | | | |
| Jacobs, Kurt | Triangle Fraternity | 2 | | | |
| Jenkins, Corry | Terre Haute Airport PD | 6 | | | |
| John, Chelsea | Alpha Sigma Alpha | 2 | | | |
| Johnson, Camden | Terre Haute South High | 5 | | | |
| Johnson, Donald Jr. | Indiana State University | 3 | | | |
| Johnson, Levi | Terre Haute South High | 10 | | | |
| Johnson, Luke | Terre Haute South High | 4 | | | |
| Johnson, Nathaniel | Indiana State University | 3 | | | |
| Johnson, Paul | American Structurepoint | 2 | | | |
| Johnson, Tyler | | 4 | | | |
| Jones, Jerry | | 7 | | | |
| Jones, Joseph (Elder) | LDS Missionary | 22 | | | |
| Jones, Lawrence | Indiana State University | 3 | | | |
| Jones, Tyra | Indiana State University | 3 | | | |
| Jones, Wade | | 4 | | | |
| Jordan, Haley | Alpha Sigma Alpha | 2 | | | |
| Judy, Kent | 181st Air National Guard | 3 | | | |
| Jukes, Amanda | | 2 | | | |
| Jukes, J.D. | | 2 | | | |
| Julian, Sara | | 9 | | | |
| Jungle, Topher | Triangle Fraternity | 2 | | | |
| Kalonia, Nishank | Triangle Fraternity | 2 | | | |
| Kanst, Noah | Triangle Fraternity | 2 | | | |
| Kasameyer, Joan | | 4 | | | |
| Kaufman, Audrey | Alpha Sigma Alpha | 2 | | | |
| Kaur, Harleen | Terre Haute South High | 4 | | | |
| Khan, Le | Triangle Fraternity | 2 | | | |
| Kieft, Kevin | | 9 | | | |
| Kimmel, Jason | Indiana State University | 9 | | | |
| Kincade, Doug | J's Bike Team | 12 | | | |
| Kirsch, Ethan | Terre Haute South High | 4 | | | |
| Kirtley, Priye | Terre Haute South High | 5 | | | |
| Kish, Kara (VCPRD) | Terre Haute Young Leaders | 3 | | | |
| Kissel, Caleb | Rose-Hulman Baseball | 4 | | | |
| Kissel, Ted | Jaycee Park Board | 48 | | | |
| Klima, Patrick | Rose-Hulman Baseball | 4 | | | |
| Koerner, Jason | | 2 | | | |
| Koerner, Todd | | 2 | | | |
| Koon, Aiyana | Indiana State University | 4 | | | |
| Koutnik, Josh | Rose-Hulman Baseball | 4 | | | |
| Kreke, Calvin | Indiana State University | 7 | | | |
| Kretschmer, (?) (Elder) | LDS Missionary | 5 | | | |
| Kuhl, Ryan | | 4 | | | |
| Kulp, Ben | Vigo County Emergency Communications | 16 | | | |
| Kulp, Brandy | | 2 | | | |
| Kulp, Jaime | | 2 | | | |
| Kulp, Lesia | | 13 | | | |
| Kumar, Chaman | Terre Haute South High | 3 | | | |
| Kumar, Neel | Triangle Fraternity | 2 | | | |
| Kuteer (?), Logan | Triangle Fraternity | 2 | | | |
| L. (?), Alexander | Rose-Hulman University | 4 | | | |
| Lady, Sydney | Indiana State University | 3 | | | |
| Lasagna, David | 181st Air National Guard | 3 | | | |
| Lawson, Austin | Indiana State University | 3 | | | |
| Lee, Daisha | Indiana State University | 3 | | | |
| Lee, Michael | Rose-Hulman University | 4 | | | |
| LeLoup, Gary | | 7 | | | |
| LeLoup, Ian | | 9 | | | |
| Letofsky, Taylor | Indiana State University | 4 | | | |
| Lewis, Yasmeen | Indiana State University | 4 | | | |
| Liang, Andong | Rose-Hulman University | 4 | | | |
| Lim, Ian | Rose-Hulman University | 4 | | | |
| Lindave, Ashli | Indiana State University | 3 | | | |
| Lindsay, Kayla | Alpha Sigma Alpha | 2 | | | |
| Lochtefeld (?), Jason | Illiana Multisport | 2 | | | |
| Lopez, J.R. | | 2 | | | |
| Lorsch, Patrick (Elder) | LDS Missionary | 12 | | | |
| Loveall, Terri | | 4 | | | |
| Luckett, Nigel | | 2 | | | |
| Luckett, Nyah | | 2 | | | |
| Lunsdon, Ethan | Terre Haute South High | 3 | | | |
| Lutz, Carrie | Illiana Multisport | 2 | | | |
| Lutz, Eric | Illiana Multisport | 2 | | | |
| Lyons, Kaylee | Indiana State University | 3 | | | |
| M. (?), Rich | | 4 | | | |
| Maberry, Sydnee | Indiana State University | 3 | | | |
| Mabie, Dara | Indiana State University | 4 | | | |
| MacDonald, Brianna | Alpha Sigma Alpha | 2 | | | |
| Mackey, Makayla | | 1 | | | |
| Madrigal, Noah | Triangle Fraternity | 2 | | | |
| Magill, Dylan | Terre Haute South High | 22 | | | |
| Magill, Maverick | | 20 | | | |
| Malganver, Se'lah | Indiana State University | 4 | | | |
| Mallard, Randy | National Pan-Hellenic Council | 2 | | | |
| Mannix, Josh | Indiana State University | 4 | | | |
| Manson, Robert | Triangle Fraternity | 2 | | | |
| Marcum, Natalie | Indiana State University | 3 | | | |
| Mardini, Julie | Terre Haute South High | 4 | | | |
| Marietta, Dustin | | 1 | | | |
| Marietta, Mike | | 6 | | | |
| Markison, Phil | Rose-Hulman University | 8 | | | |
| Marlow, Travis | Vectren | 7 | | | |
| Martin, Allison | Girl Scouts | 1 | | | |
| Martin, Cassidy | Girl Scouts | 1 | | | |
| Martin, Cheryl | Girl Scouts | 1 | | | |
| Martin, Jacob | Triangle Fraternity | 2 | | | |
| Martinez, Maria | Terre Haute South High | 4 | | | |
| Martinez, Nathan | Triangle Fraternity | 2 | | | |
| Martog, Ruben | Triangle Fraternity | 2 | | | |
| Maschmann, Matt | Triangle Fraternity | 2 | | | |
| Mathes, Lois | WTWO | 3 | | | |
| Mattingly, Meghan | Alpha Sigma Alpha | 2 | | | |
| Mattox, Tony | | 10 | | | |
| Mauder, Beth | Indiana State University | 3 | | | |
| McCarty, Bill | | 4 | | | |
| McClury, Danielle | Alpha Sigma Alpha | 2 | | | |
| McDaniel, Logan | Rose-Hulman Baseball | 4 | | | |
| McDowell (?), James | Morro Trucking | 6 | | | |
| McIntire, Chad | 181st Air National Guard | 15 | | | |
| McKimmy, Dave | | 3 | | | |
| McLaughlin, Trent | Indiana State University | 3 | | | |
| McMurray, Cody | | 8 | | | |
| McMurray, Shawn | | 30 | | | |
| McNeal, Shalynn | Indiana State University | 4 | | | |
| McPhillips, Kyle | Indiana State University | 3 | | | |
| McQuery, Carl | National Pan-Hellenic Council | 2 | | | |
| McSweeney, John | Rose-Hulman University | 27 | | | |
| Menachu (?), Suzi (?) | | 2 | | | |
| Mendoza, Camille | Terre Haute South High | 12 | | | |
| Mendoza, Francis | Terre Haute South High | 12 | | | |
| Mercer, Kayla | Indiana State University | 4 | | | |
| Merni, Andrew | Indiana State University | 3 | | | |
| Michaels, Brittany | | 2 | | | |
| Mickus, Taylor | Indiana State University | 5 | | | |
| Milbourn, Kloe | Alpha Sigma Alpha | 2 | | | |
| Miles, ? (Sister) | LDS Missionary | 15 | | | |
| Miller, Erin | Rose-Hulman University | 9 | | | |
| Miloiovic, Filip | Triangle Fraternity | 2 | | | |
| Minor, Lauren | WTWO | 4 | | | |
| Miranider (?), Julien | Terre Haute South High | 4 | | | |
| Mitchell, Roy | 181st Air National Guard | 3 | | | |
| Mitchell, Taylor | Indiana State University | 3 | | | |
| Moats, Jacob | | 6 | | | |
| Moats, Kevin | | 17 | | | |
| Moffett, Jeremy | National Pan-Hellenic Council | 2 | | | |
| Mondragon, ? (Sister) | LDS Missionary | 13 | | | |
| Monhaut, Joseph | | 3 | | | |
| Monken, Vitor Pena | Indiana State University | 3 | | | |
| Monroe, Randall | 181st Air National Guard | 3 | | | |
| Monser, Marisa | Terre Haute South High | 4 | | | |
| Moore, Eric | | 4 | | | |
| Moore, Jeremy | WTWO | 10 | | | |
| Moore, Zane | J's Bike Team | 6 | | | |
| Moorehead, Kaitlyn | Terre Haute South High | 5 | | | |
| Moorehead, Michael | | 2 | | | |
| Moorhead, Alisha | Illiana Multisport | 1 | | | |
| Moorhead, Conor | Illiana Multisport | 1 | | | |
| Morales, Heisy | | 6 | | | |
| Morgan, James | 181st Air National Guard | 3 | | | |
| Morris, Dakota | National Pan-Hellenic Council | 2 | | | |
| Morrissey, Ian | Triangle Fraternity | 2 | | | |
| Morse, Jane (Dobbs Park) | | 5 | | | |
| Morse, Kyle | 181st Air National Guard | 18 | | | |
| Mortensen, Ashley | GE Aviation | 3 | | | |
| Mortensen, Grace | GE Aviation | 5 | | | |
| Mortensen, Isabel | GE Aviation | 4 | | | |
| Mortensen, Kristen | GE Aviation | 3 | | | |
| Mortensen, Tyrone | GE Aviation | 11 | | | |
| Moyer, Nick | Triangle Fraternity | 2 | | | |
| Mueller, Sam | Rose-Hulman University | 4 | | | |
| Muncie, RJ | | 2 | | | |
| Mundel, Marcus | GE Aviation | 5 | | | |
| Muniz, Daniel | Indiana State University | 3 | | | |
| Murphy, Bryley | Triangle Fraternity | 2 | | | |
| Murphy, Kyle | | 28 | | | |
| Murphy, Mason | | 33 | | | |
| Myers, Aaron | Friends of Griffin Bike Park | 9 | | | |
| Myers, Joseph | Indiana State University | 4 | | | |
| N. (?), Brittney | Terre Haute South High | 4 | | | |
| Nagarajan, Varun | Triangle Fraternity | 2 | | | |
| Neese, Karl | Indiana State University | 5 | | | |
| Neff, Hillary (Sister) | LDS Missionary | 22 | | | |
| Neice, Chris | Bogey's | 4 | | | |
| Nerdt, Emily | | 4 | | | |
| Nering, David | GE Aviation | 4 | | | |
| Nering, Teresa | GE Aviation | 4 | | | |
| Nering, Tim | GE Aviation | 4 | | | |
| Newbolt, Raven | Indiana State University | 4 | | | |
| Newton, Joe | | 12 | | | |
| Ngo, Andy | Terre Haute South High | 4 | | | |
| Niemann, Michael | Rose-Hulman University | 4 | | | |
| Norris, Chuck | | 4 | | | |
| Norris, Kyle (Elder) | LDS Missionary | 29 | | | |
| Novoor, Matthew | Triangle Fraternity | 2 | | | |
| Oakes, Jeremy | Indiana State University | 3 | | | |
| Olson, (Sister) | LDS Missionary | 2 | | | |
| Opel, Brett | Triangle Fraternity | 2 | | | |
| Ourand, Rachael | | 7 | | | |
| Owen, Isaiah | Indiana State University | 3 | | | |
| Page, August | Indiana State University | 3 | | | |
| Palmer, Jace (Elder) | LDS Missionary | 6 | | | |
| Paramanandam, Juan | WTWO | 2 | | | |
| Paramanandam, Lily | Girl Scouts | 1 | | | |
| Park, Chul Min | Triangle Fraternity | 2 | | | |
| Parker, Sarah | Indiana State University | 3 | | | |
| Patterson, Gary | | 2 | | | |
| Pattyn, Carly | Alpha Sigma Alpha | 2 | | | |
| Pau'u, Uasi (Elder) | LDS Missionary | 5 | | | |
| Pearson, Craig | | 5 | | | |
| Pepper, Sean | Indiana State University | 4 | | | |
| Pereira, Dave | Indiana State University | 3 | | | |
| Peterson, Eric | Indiana State University | 9 | | | |
| Petrowski, Josh | 181st Air National Guard | 3 | | | |
| Pfister, Andy | | 17 | | | |
| Phillips, Bobby | | 4 | | | |
| Pickering, Claire | | 5 | | | |
| Pickering, Jacob | | 5 | | | |
| Pickering, Josh | | 20 | | | |
| Pickering, Olivia | | 5 | | | |
| Pictor, Cole | Terre Haute South High | 4 | | | |
| Piepenbrina, Brian | | 4 | | | |
| Piper, Julia | | 2 | | | |
| Piper, Sarah | Girl Scouts | 1 | | | |
| Pirtle, Nicholas | 181st Air National Guard | 3 | | | |
| Plummer, Matt | Triangle Fraternity | 2 | | | |
| Porter, Saxon | J's Bike Team | 2 | | | |
| Porter, Strom | J's Bike Team | 2 | | | |
| Post, JT | Indiana State University | 4 | | | |
| Pottebaum, Ian | | 4 | | | |
| Potter, Bruce | 181st Air National Guard | 7 | | | |
| Potter, Danielle | GE Aviation | 4 | | | |
| Potter, Jaamal | Vectren | 6 | | | |
| Pound, Stan | | 5 | | | |
| Powe, Gregory | 181st Air National Guard | 15 | | | |
| Powers, Sean | Triangle Fraternity | 2 | | | |
| Price, Josh | American Structurepoint | 2 | | | |
| Price, Robert | | 6 | | | |
| Prichard, Mark | 181st Air National Guard | 7 | | | |
| Priddis, Brigham | | 3 | | | |
| Priddis, Ian | | 3 | | | |
| Priddis, Jaxen | | 6 | | | |
| Priddis, Katie | | 3 | | | |
| Priddis, Renee | | 3 | | | |
| Priddis, Tom | | 6 | | | |
| Protz, Brandy | Indiana State University | 3 | | | |
| Prouse, Tori | Terre Haute South High | 4 | | | |
| Pulliam, Jermaine | Indiana State University | 3 | | | |
| Pullum, Matt | Triangle Fraternity | 2 | | | |
| Purdue, Zack | Indiana State University | 5 | | | |
| Purkey, Austin | Indiana State University | 3 | | | |
| R., Travis | Indiana State University | 3 | | | |
| R(?), Jeremy | Terre Haute South High | 3 | | | |
| Racop, Grant | Terre Haute South High | 7 | | | |
| Rafaleo, Chloe | Girl Scouts | 2 | | | |
| Randolph, Caleb | Terre Haute South High | 4 | | | |
| Ray, John | | 8 | | | |
| Reece Cody | | 4 | | | |
| Reece, Ally | | 4 | | | |
| Reece, Curtis (Elder) | LDS Missionary | 9 | | | |
| Reece, Rex | | 4 | | | |
| Reed, George | | 4 | | | |
| Reed, James | National Pan-Hellenic Council | 2 | | | |
| Reed, Tyler | Indiana State University | 3 | | | |
| Reedman, (?) (Elder) | LDS Missionary | 8 | | | |
| Reidhead, (?) (Elder) | LDS Missionary | 8 | | | |
| Relgea, Kyle | Triangle Fraternity | 2 | | | |
| Renehan, Jamie | 181st Air National Guard / Friends of Griffin Bike Park | 7 | | | |
| Reynolds, Craig | J's Bike Team | 9 | | | |
| Reza, Peter | Triangle Fraternity | 2 | | | |
| Rice, Jonathan | Indiana State University | 3 | | | |
| Rice, Tammy | | 4 | | | |
| Rich, Mallory | Girl Scouts | 1 | | | |
| Richardson, Vanessa | Indiana State University | 4 | | | |
| Riggs, Jadyn | Girl Scouts | 1 | | | |
| Riggs, Josie | Girl Scouts | 1 | | | |
| Ring, Julie | | 4 | | | |
| Rizzolo, Paul | Triangle Fraternity | 2 | | | |
| Robinson, Renado | | 4 | | | |
| Robinson, Robert | | 10 | | | |
| Rogers, Ashley | Terre Haute South High | 28 | | | |
| Rogers, Ava | | 18 | | | |
| Rogers, Todd | | 165 | * | | |
| Rogutich, Adam | Indiana State University | 4 | | | |
| Rompola, Ryan | Indiana State University | 6 | | | |
| Rothrock, Brad | | 11 | | | |
| Rowe, Justin | Terre Haute South High | 4 | | | |
| Rowe, Michael | Rose-Hulman University | 4 | | | |
| Russell, Elizabeth | Indiana State University | 3 | | | |
| Russo, Ashton | Triangle Fraternity | 2 | | | |
| Rutvi, Shah | Terre Haute South High | 4 | | | |
| Sanders, Christian | Indiana State University | 3 | | | |
| Sanders, Jonathan | | 126 | * | | |
| Sanders, Tim | WTWO | 2 | | | |
| Sands, Shelby | Indiana State University | 4 | | | |
| Savva, Pavel | Triangle Fraternity | 2 | | | |
| Scamihorn, Natalie | Terre Haute South High | 3 | | | |
| Scarbrough, Samantha | Terre Haute South High | 4 | | | |
| Schafer, Mark | GE Aviation | 3 | | | |
| Schafer, Mason | GE Aviation | 3 | | | |
| Scherle, Jan | | 3 | | | |
| Schitter, Jade | Indiana State University | 6 | | | |
| Schmalzried, Emily | Indiana State University | 4 | | | |
| Schmidt, Jake | | 3 | | | |
| Schmitz, ? | | 3 | | | |
| Schnitz, Drew | Rose-Hulman Baseball | 4 | | | |
| Schoonover, Alex | | 9 | | | |
| Scott, Brandon | DIY Rentals | 128 | * | | |
| Scott, Hannah | | 2 | | | |
| Scoville, Gage (Elder) | LDS Missionary | 6 | | | |
| Seeman, Samantha | Indiana State University | 5 | | | |
| Segura, Ezra (Elder) | LDS Missionary | 6 | | | |
| Seiler, Catherine | Indiana State University | 4 | | | |
| Selbe, Brandon | Indiana State University | 3 | | | |
| Settle, Caleb | Triangle Fraternity | 2 | | | |
| Shagley, Alice | Wells Fargo, Terre Haute Branch | 4 | | | |
| Shagley, Eleanor | Wells Fargo, Terre Haute Branch | 3 | | | |
| Shagley, George | Wells Fargo, Terre Haute Branch | 4 | | | |
| Shagley, Richard | Wells Fargo, Terre Haute Branch | 4 | | | |
| Shah, D. (?) | Girl Scouts | 1 | | | |
| Shah, Haily | Girl Scouts | 1 | | | |
| Shah, Ruth | Terre Haute South High | 4 | | | |
| Shake, Rick | Vectren | 14 | | | |
| Shanhoo, Scott | Rose-Hulman University | 4 | | | |
| Sharpee, Tyler | | 16 | | | |
| Shaw, Amy (Sister) | LDS Missionary | 26 | | | |
| Shaw, Mike | | 16 | | | |
| Sheaf, Jacob | Triangle Fraternity | 2 | | | |
| Shepard, Todd | Vectren | 4 | | | |
| Sherman, Josh | | 5 | | | |
| Shipley, Conner | Rose-Hulman Baseball | 4 | | | |
| Short, Jeffrey | GE Aviation | 9 | | | |
| Siahmdcoun (?), Saayeh | Terre Haute South High | 4 | | | |
| Silcock, Beverly | GE Aviation | 4 | | | |
| Simmons, Kaetyln (Sister) | LDS Missionary | 6 | | | |
| Sluder, Patty | WTWO | 5 | | | |
| Smith, Amanda | Indiana State University | 9 | | | |
| Smith, Aunna (?) | National Pan-Hellenic Council | 2 | | | |
| Smith, Claire | | 6 | | | |
| Smith, Cole | WTWO | 5 | | | |
| Smith, Essence | Alpha Sigma Alpha | 2 | | | |
| Smith, Kayla | Indiana State University | 3 | | | |
| Smith, Mirenda | Indiana State University | 3 | | | |
| Smith, Sam | Friends of Griffin Bike Park | 14 | | | |
| Snyder, Nicole | | 3 | | | |
| Sokoloff, Chris | Rose-Hulman Baseball | 4 | | | |
| Solberg, Sarah | Indiana State University | 4 | | | |
| Solmon, Logan | | 11 | | | |
| Solmon, Rudy | Friends of Griffin Bike Park | 184 | * | | |
| Soms, Aramis | Indiana State University | 3 | | | |
| Sorensen, (?) (Sister) | LDS Missionary | 11 | | | |
| Sorenson, Drew | Triangle Fraternity | 2 | | | |
| Spangler, Ryan | Rose-Hulman University | 4 | | | |
| Sparks, Brandon | | 1 | | | |
| Spears, Zachary | Rose-Hulman University | 4 | | | |
| Spencer, Edward | Triangle Fraternity | 2 | | | |
| Spindler, Matt | Indiana State University | 4 | | | |
| Spitzig, Becca | Indiana State University | 9 | | | |
| Spurgeon, Buddy | | 11 | | | |
| Sritharan, Jay | Triangle Fraternity | 2 | | | |
| Stafford, Drake | Indiana State University | 3 | | | |
| Stakeman, Jackson | | 6 | | | |
| Stakeman, Jeremy | | 72 | | | |
| Stamper, Matt | Terre Haute South High | 7 | | | |
| Stapleton, Jessie | Triangle Fraternity | 2 | | | |
| Starr, Jessica | Indiana State University | 14 | | | |
| Steets, Andrew | Triangle Fraternity | 2 | | | |
| Steiner, Trevor | Indiana State University | 4 | | | |
| Sterling, Austin | Indiana State University | 3 | | | |
| Stevenson, Drake | 181st Air National Guard | 4 | | | |
| Stewart, Jasmine | Indiana State University | 3 | | | |
| Stofferahn, Kate | Girl Scouts | 1 | | | |
| Stokes, Alizae | Indiana State University | 3 | | | |
| Stout, Dave | J's Bike Team | 2 | | | |
| Stout, Jake | J's Bike Team | 3 | | | |
| Strohm (?), Stan | | 1 | | | |
| Stucker, Chris | | 4 | | | |
| Studey, Chuck | GE Aviation | 4 | | | |
| Stull, Andrew | Rose-Hulman Baseball | 4 | | | |
| Sturgess, Lucces | WTWO | 2 | | | |
| Sturgess, Michelle | WTWO | 2 | | | |
| Sturgess, Tim | WTWO | 6 | | | |
| Sumansky-Lewis Fndtn, Brian | Sumansky-Lewis Foundation | 132 | | | |
| Sumansky-Lewis Fndtn, Greg | Sumansky-Lewis Foundation | 167 | | | |
| Sumansky-Lewis Fndtn, John | Sumansky-Lewis Foundation | 96 | | | |
| Sumansky-Lewis Fndtn, Sammy | Sumansky-Lewis Foundation | 64 | | | |
| Sumansky, Bill | Sumansky-Lewis Foundation | 137 | | | |
| Sumansky, Tory | Sumansky-Lewis Foundation | 86 | | | |
| Sunderhaus, Cody | Rose-Hulman Baseball | 4 | | | |
| Sutherland, Daniel | Rose-Hulman Baseball | 4 | | | |
| Sutphin, Beth | | 13 | | | |
| Swadener (?), Kurt (?) | WTWO | 8 | | | |
| T (?), Namsay (?) | Rose-Hulman University | 4 | | | |
| Taka, Captain (Elder) | LDS Missionary | 18 | | | |
| Tan, Mike (?) | Rose-Hulman University | 4 | | | |
| Tanner, Bryant (Elder) | LDS Missionary | 8 | | | |
| Tanner, Chloe | Signature Construction | 27 | | | |
| Tanner, Jonathan | Signature Construction | 77 | | | |
| Tanner, Kelley | Signature Construction | 26 | | | |
| Tanner, Seth | Signature Construction | 50 | | | |
| Targett, Emily | Terre Haute South High | 4 | | | |
| Tasseff, Ben | Indiana State University | 3 | | | |
| Taylor, Mark | 181st Air National Guard | 9 | | | |
| Tevlin, Lauren | Girl Scouts | 1 | | | |
| Thomas, ? (Elder) | LDS Missionary | 8 | | | |
| Thomas, Joe | Friends of Griffin Bike Park | 8 | | | |
| Thomas, Vincent | Indiana State University | 3 | | | |
| Thompson, Miranda | | 4 | | | |
| Thorlton, Jeff | GE Aviation | 4 | | | |
| Thorlton, Naomi | GE Aviation | 4 | | | |
| Thralls, Zach | GE Aviation | 9 | | | |
| Threlfall, Vince | | 2 | | | |
| Threllfall, Archie | | 2 | | | |
| Threllfall, Preston | | 2 | | | |
| Tincher, Scott | 181st Air National Guard | 3 | | | |
| Tomes, Aaron | | 5 | | | |
| Tramp, Mitch | Triangle Fraternity | 2 | | | |
| Trenshaw, Joe | Triangle Fraternity | 2 | | | |
| Tribble, Kevin | Indiana State University | 3 | | | |
| Trinkle, Samantha | | 6 | | | |
| Trisler, Kenzie | Alpha Sigma Alpha | 2 | | | |
| Truett, Allison | Indiana State University | 3 | | | |
| Trusk, Zach | Rose-Hulman Baseball | 4 | | | |
| Tubbs, Ethan | Triangle Fraternity | 2 | | | |
| Turner, Tory | | 2 | | | |
| Tyler, Erwin | | 6 | | | |
| Tyler, Takia | Indiana State University | 3 | | | |
| U(?), M(?) | Terre Haute South High | 3 | | | |
| Valcour, Georges | Rose-Hulman University ROTC | 14 | | | |
| Van Denburg, Jay | J's Bike Team | 9 | | | |
| Van Denburg, Joe | J's Bike Team | 29 | | | |
| VanGilder, Vic | | 4 | | | |
| Vanharen, Jayce (Elder) | LDS Missionary | 13 | | | |
| Vanlandingham, Brent | | 14 | | | |
| Vectren Operators (4) | | 28 | | | |
| Voges, Danielle | Terre Haute South High | 9 | | | |
| Volny, Chris | Triangle Fraternity | 2 | | | |
| Wadsworth, Eric | Indiana State University | 14 | | | |
| Wallace, Jacob | Indiana State University ROTC | 9 | | | |
| Wallace, Robert (Elder) | LDS Missionary | 7 | | | |
| Waltemeyer, Alexandra | Triangle Fraternity | 2 | | | |
| Walthall, Eric | | 5 | | | |
| Walthall, Thomas | | 5 | | | |
| Walton, Zack (Elder) | LDS Missionary | 2 | | | |
| Ward, Mark | Vectren | 7 | | | |
| Warner, Aaron | Terre Haute South High | 12 | | | |
| Warner, Journey | Terre Haute South High | 8 | | | |
| Warren, Alaina | | 1 | | | |
| Warren, J. (?) | | 1 | | | |
| Webb, Gillian | Terre Haute South High | 4 | | | |
| Webber, Chris | | 17 | | | |
| Wechselberger, Marcus | Rose-Hulman Baseball | 4 | | | |
| Wehrmeyer, Zach | Friends of Griffin Bike Park | 5 | | | |
| Weitzel, Noah (Elder) | LDS Missionary | 14 | | | |
| Weng, Anthea | | 4 | | | |
| Weng, Anthony | Terre Haute South High | 4 | | | |
| West, Daniel (Elder) | LDS Missionary | 22 | | | |
| West, Emily | Indiana State University | 9 | | | |
| Westerhouse, Quinn | Terre Haute South High | 9 | | | |
| Weston, Nicole | Indiana State University | 3 | | | |
| Wetnight, Austin | 181st Air National Guard | 14 | | | |
| Wheelden, Robyn | | 7 | | | |
| Wheeler, Ben | | 3 | | | |
| Wheeler, Lexie | Alpha Sigma Alpha | 2 | | | |
| White, Elias | | 7 | | | |
| White, Michelle | Indiana State University | 4 | | | |
| Whitfield, Tyler | | 4 | | | |
| Wilkinson, Darren | | 2 | | | |
| Wilkinson, Jake | | 2 | | | |
| Wilkinson, Kira | Terre Haute South High | 4 | | | |
| Wilkinson, Megan (Sister) | LDS Missionary | 13 | | | |
| Williams, Erin | | 3 | | | |
| Williams, Shelby | GE Aviation | 8 | | | |
| Williams, Stanford Jr. | National Pan-Hellenic Council | 2 | | | |
| Williams, Steve | | 4 | | | |
| Williams, Terrence | National Pan-Hellenic Council | 2 | | | |
| Williams, Tony | Illiana Multisport | 2 | | | |
| Williford, Hailey | Indiana State University | 3 | | | |
| Wilson, Fred | | 23 | | | |
| Wilson, Karen | | 3 | | | |
| Wilson, Matt | Indiana State University | 4 | | | |
| Wilson, Meghan | Terre Haute South High | 4 | | | |
| Witsken, Evan | Rose-Hulman Baseball | 4 | | | |
| Wolf, Gegory | 181st Air National Guard | 3 | | | |
| Wood, Patrick | | 10 | | | |
| Woodard, Nicole | Illiana Multisport | 2 | | | |
| Woolsley, (?) (Elder) | LDS Missionary | 19 | | | |
| Woolston, Austin | | 2 | | | |
| Woolston, Phil | | 12 | | | |
| Workman, Angie | | 6 | | | |
| Wridner, Phil | | 2 | | | |
| Wright, Abby | Indiana State University | 3 | | | |
| Wright, David | | 9 | | | |
| Wright, Ernie | 181st Air National Guard | 3 | | | |
| Wright, Jordan | Rose-Hulman University ROTC | 6 | | | |
| Y. (?), Benjamin | Triangle Fraternity | 2 | | | |
| Yarbrough, Kristen | Indiana State University | 3 | | | |
| Ybarra, Joe | Indiana State University | 4 | | | |
| Yeagley, Erica | Terre Haute South High | 4 | | | |
| Yeagley, Lily | Terre Haute South High | 8 | | | |
| Yeagley, Luke | | 2 | | | |
| Young, Coriana | Indiana State University | 3 | | | |
| Young, Stacy | Terre Haute Young Leaders | 3 | | | |
| Youngen, Greg | J's Bike Team | 19 | | | |
| Yowell, Bruce | WTWO | 5 | | | |
| Zachary, Tanner | Terre Haute South High | 3 | | | |
| Zdunovicios, Zack | Rose-Hulman University | 4 | | | |
| Zimmerman, Jeff | | 160 | * | | |
| Zimmerman, Russell | Triangle Fraternity | 2 | | | |
| Adams, Dakota | Vigo County Emergency Communications | 18 | | | |
| Bell, John T | Vigo County Emergency Communications | 18 | | | |
| Booker, Andrea | Vigo County Emergency Communications | 5 | | | |
| Boyer, Michele | Vigo County Emergency Communications | 3 | | | |
| Kester, Brian | Vigo County Emergency Communications | 18 | | | |
| Middleton, Dara | Vigo County Emergency Communications | 9 | | | |
| Miller, Mardel | Vigo County Emergency Communications | 3 | | | |
| Olvey, John | Vigo County Emergency Communications | 6 | | | |
| Pfister, George | Vigo County Emergency Communications | 18 | | | |
| Vinardi, Nick | Vigo County Emergency Communications | 18 | | | |
| Winters, David | Vigo County Emergency Communications | 18 | | | |
| Tanner, Hailey | Signature Construction | 26 | | | |
| Tanner, Abigail | Signature Construction | 26 | | | |
| Nirtaut, Alec (Elder) | LDS Missionary | 4 | | | |
| Wadley, (?) (Elder) | LDS Missionary | 3 | | | |
| Darington, (?) (Elder) | LDS Missionary | 3 | | | |
| | | 0 | | | |
| | | 0 | | | |
| | | 0 | | | |
| | | 0 | | | |
| | | 0 | | | |
| | | 0 | | | |
| | | 0 | | | |
| | | 0 | | | |
| | | 0 | | | |
| | | 0 | | | |
| | | 0 | | | |
| | | 0 | | | |
| | | 0 | | | |
| | | 0 | | | |
| | | 0 | | | |
| | | 0 | | | |
| | | 0 | | | |
| | | 0 | | | |
| | | 0 | | | |
| ISU Students | | 784 | * | * | |
| | | | | | |
| 2016 GRAND TOTAL: | 7,258 | | | | |
| | | | | | |
| 2015 GRAND TOTAL: | 7,508 | | | | |
| 2014 GRAND TOTAL: | 1,383 | | | | |
| CUMULATIVE GRAND TOTAL: | 16,149 | | | | |
| | | | | | Work Day Description: |
| TOTAL COMPETITIVE WAGE VALUE OF VOLUNTEER ACTIVITIES: | $574,154.85 | | | | |
| | | | | | |
| TOTAL VOLUNTEER COUNT: | 1097 | | | | |
| | | | | | |
| | | | | | |
| | | | | | |
| | | | | | |
| | | | | | |
| | | | | | |
| | | | | | |